Back
The weather forecast for today, Thursday 18.08.2022
Unstable
A low pressure system over France will bring humid and unstable air to the Alps.
Variable conditions. Many clouds and only some sunny spells, thunderstorms are possible all over the day.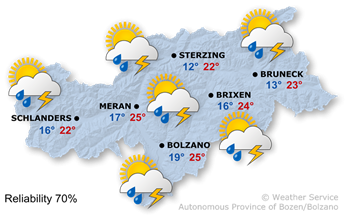 The weather forecast for tomorrow, Friday 19.08.2022
Rainy weather
A depression will bring unstable conditions.
Cloudy with some sunny spells and showers or thunderstorms during the course of the day. Weather improvement in the following night.