Back
The weather forecast for today, Tuesday 24.05.2022
Partly sunny
South-westerly upper level flow will bring humid and unstable air masses towards the Alps.
Generally dry conditions in the forenoon. Showers and thunderstorms will form during the second part of the day.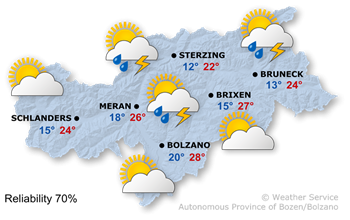 The weather forecast for tomorrow, Wednesday 25.05.2022
Changeable conditions
Humid air masses will reach the Alps.
Mostly cloudy, few sunny spells and some rain showers or thunderstorms.